Clean-label foods, supplements and nutrition products
Bone broth and stock, delivering a good dose of nutrients, is a multifunctional end product and natural ingredient for food and beverage applications, supplements and nutrition products that utilize it.

Attractive broth applications for the retail, foodservice, ready meals and nutrition markets
If you only associate bone broth and stock with tasty sippable broth beverage and cooking stock, you're missing the big picture. The natural bone broth can do so much more than serving as such as a meal what makes it incredibly exciting market to set up a business.
The rising global demand for functional food and beverages, those that use natural ingredients, is encouraging food manufacturers to introduce healthier varieties with fewer or no additives. However, the challenges for manufacturers may appear to deliver products with authentic and home-made culinary flavour and convenience texture the consumer expects.

This is where nutritious bone broth providing natural source of collagen protein, mouthfeel taste and excellent texture and quality credentials on foods, have a preference to meet the clean label requirements of food manufacturers to successfully develop new added-value products and reformulate existing ones for the retail, foodservice and ready meals space. It's anticipated to result in the significant production value and growth of the bone broth-based food market over the next decade.

Within this attractive natural bone broth market, there are certain high-growth segments which are growing at a very fast pace globally as they are gaining immense acceptability amongst the consumers for cleaner products thereby creating significant opportunities for the new as well as existing players in the natural food and beverages industry.
The following table shows product innovation in typical application areas of broth in the retail, foodservice and food manufacturing sectors. Also, it reflects our estimation of each category market size and growth potential showcasing signs of promising growth over the next decade.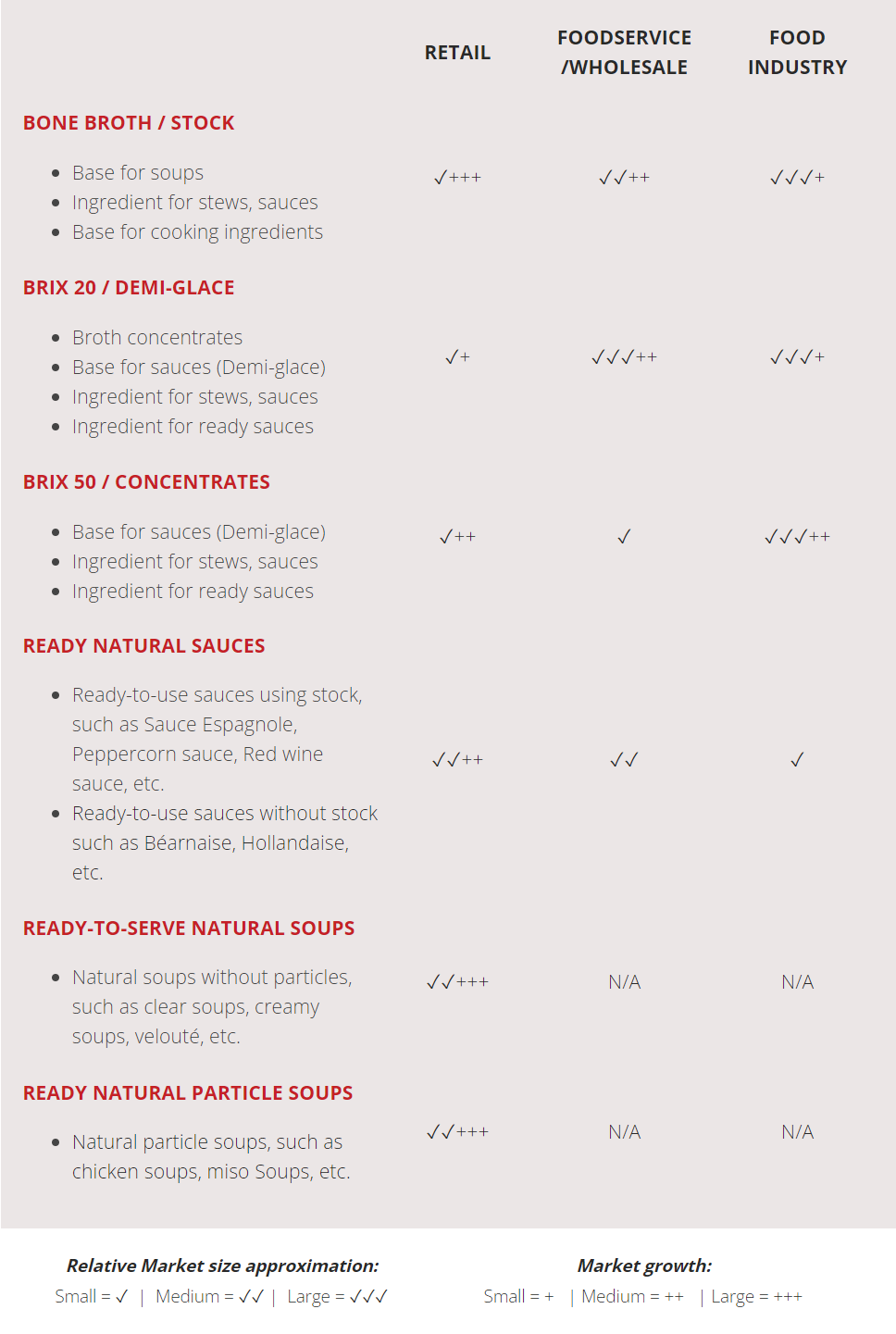 Ready soups
The rising demand for higher value fresh and nutritious meal soups, particularly wet ambient soups, functional and broth-based soups, have stimulated the natural and organic soups rapid market growth in various parts of the world. Large companies, such as Campbell's which acquired Pacific Foods are already pushing hard into natural and organic soups. For new players and existing brands to stay competitive in a market, this places exiting opportunities on your soup production and product innovation to bring a new clean label line of ready-to-eat soups to the market.
Significant market growth is expected with the meal soups made from real natural ingredients, such as bone broth, that contains no artificial flavours and preservatives to fulfil consumer preferences in nutrition. Soups fresh character for a full savoury taste experience that replicates homemade soups and it's packaged in a convenient format can truly open a new clean label segment for Ready Wet Soups category. Read our blog post to learn more about Clean Label and Organic Soup on the Rise.
Coctio Natural Soup Cooker Solution will make it easy for your food production and ingredients industry to expand into clean label soup markets. Our Soup Cooker allows you to produce a wide range of smooth to particulate soups - all-natural products without preservatives. Typical products are clear soups based on bone broth and thickened soups based on milk, cream and vegetable purees with and without particles.
Demi‐glace sauces bases, stock concentrates and ready sauces
Consumer awareness of health and wellness and the trend toward natural health products are key drivers also in new product development for sauces and seasonings in the retail markets. Broth concentrates and ready-to-use sauces with natural ingredients without additives and preservatives are increasingly favourite for daily use to help in preparation of home cooking.

Moreover, this natural sauce category provides a breakthrough for the foodservice industry. In the professional kitchen sector, the demand for ready-to-use demi-glace, broth concentrates and ready sauces is growing at a rapid pace. Making traditional demi-glace for a sauce base and prepare culinary sauces, such as Espagnole, Peppercorn sauce and Red wine sauce, is a very time-consuming process in-house, so professional kitchens and restaurants are increasingly interested in purchasing high-quality ready sauces instead of cooking by themselves.

Coctio provides optimal sauce production solution to meet your capacity needs and growing demands from retailers, food services, industrial customers and consumers.

The Coctio Standard Evaporator Solution is suited for large-scale production of broth concentrates (up to BRIX 30 products) and demi-glace. The process can also accommodate particles. This means that particle ingredients can be added into the evaporation process to replicate the same process that restaurant chefs would use in their own kitchen when producing thicker sauces such as demi-glace.

For the production of ready sauces such as Espagnole, Peppercorn sauce, Red wine sauce, Coctio offers Small Sauce Preparation Solution that includes a sauce preparation kettle (1500 litres) and an evaporator. This versatile equipment is also capable of producing a range of other products (demi-glace and particle soups) with evaporated bone broth or without it.


Natural broth for use in prepared foods
Hitting so many trends - healthy and wellness, natural taste, clean label, convenience and sustainability - it's no wonder why bone broth market is a robust opportunity in the prepared food industry.

The gelatinous texture and ability to form thermo-reversible gels make this completely natural label bone broth ingredient particularly useful in the preparation of ready meals to snack foods and anything in between. What's more, broth ingredient offers ready-meals manufacturers the opportunity for differentiation and variation in the increasingly competitive marketplace providing added value to your products. The results include increased product yield, shelf-life, improved viscosity and sensory characteristics, including texture, aroma and flavour intensity, and colour. The well-rounded taste obtained with bone broth allow food manufacturers to eliminate artificial additives, MSG and yeast extracts, and reduce the number of ingredients used in food products without sacrificing natural umami taste or texture.

Benefits of bone broth ingredient in prepared foods:
Improve the natural, delicious taste experience in ready meals (mouthfeel, juiciness)
Give foods the texture and consistency consumers expect
Maintain or increase product quality
Improved balance of all ingredients
Improve sliceability
Reduce formulation costs
Increase animal protein content
Optimise cost-in-use
Optimise functionality
Typical applications areas:
Ingredient for tumbling, marinating, injection and filling of poultry, meat and fish products
Prepared meals and meal components, such as spiced soups, stews, casseroles, stroganoffs, etc.
Meat dishes, such as burgers, meatballs, sausages, hams
Nutrition products and recovery meals
Collagen-rich beverage
Broth ingredient for nutrition products
Sports nutrition is the fastest growing consumer health market category, especially for companies focusing on clean-label demands for protein products. The Coctio technology allows nutrition manufacturers to develop new formulations for sport and health applications, such as functional broth sports drinks, gels and protein snacks dedicated to enhancing convenience, better taste and texture and nutritional quality of products.

Bone broth has already been available in a spray dried powder form, and this product line will sure keep a steady growth within the category. In this format, the liquid broth is dehydrated, making it into a concentrated source of high-quality, nutritious and tasty bone broth powder. The spray dried powders are used in sport, health and diet nutrition, for protein shakes and drinks, tables and capsules with protein supplement derived from animal bones.
Spray-dryers provided by third-parties can be connected to Coctio production line to dry the stock concentrate into a powder.


Baby and Toddlers Foods and Nutrition
Baby food and childhood nutrition segment offers lucrative growth opportunities for bone broth and prepared food manufacturers to penetrate this market for expanding their businesses. The sector is characterised by a growing focus on complete natural, healthy and nutritional clean label solutions that are nowadays the critical growth's drivers of the baby food category.
The bone broth market is also opening up tremendous opportunities in nutrition foods and treatments segments for infants as this nutrient-dense 100% natural supplement delivers several essential functions in many baby and toddlers healing food applications. It is rich in collagen-building nutrients, protein, and minerals, all in a form that is easy for the infant's body to absorb and digest. Also, the broth helps broaden baby's palate, strengthen growing bones and teeth, building connective tissue and joints and support immunity and improving digestion. The broth in the form of beverage, clear soup and baby purees using a bone stock base are considered to be consumed as safe nutrition in small amounts for babies above 6 months and older of age, as soon as baby has been introduced to solids.
The Coctio broth cooking line integrated with Soup and Sauce Cooker Solution allows you to create a greater variety of products for the baby food industry with all the high-quality standards required by the market:
Nutrient-dense bone broth beverage and soups
Texturised broth-based meals (using vegetable, meat and chicken broth)
Smooth fruit purées to purées with pieces of meat, chicken and vegetable particles up to Ø25 mm with excellent particle integrity.